Farewell, Dr. Farah Singer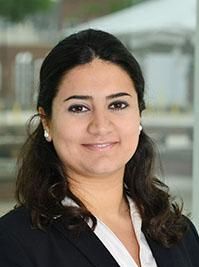 Dr. Farah Singer, a Research Associate in Prof. Michael Ohadi's group, recently began a new job in the New York City area on June 1 to pursue a new opportunity as an Associate Project Manager at ULC Robotics. In her new role she will work in the R&D department where her duties include managing R&D projects and working closely with the engineering teams on developments ranging from concept to commercialization. She will also work on developing new proposals and business opportunities.
Singer joined CEEE in February 2016, where she served as a faculty research associate and as a co-director for the AHXPI consortium group headed by Prof. Ohadi. Prior to her work at CEEE, she pursued her graduate studies and received a Ph.D. in Engineering Sciences from the University of Poitiers in France, in 2014, and a Master's degree in Physics from the Lebanese University in Beirut, in 2011. Her areas of expertise include heat transfer, thermal management, additive manufacturing, and advanced energy modeling and audit of buildings and data centers; as well as project management skills.
"We were delighted to have Dr. Farah Singer with the S2TS and AHX-PI group for the four plus years and we will miss her greatly, but we are happy to see her rise to the next level of her professional career track," said Prof. Ohadi. "Farah proved herself as a bright and skillful individual, with limitless energy enthusiasm and with a great mix of technical and project management skills. Above all, Farah is blessed with highest integrity and work ethics standards."
Singer said she will miss all of the kind people she worked with at CEEE and some of her favorite memories are from consortium meetings when everyone from all three consortia would come together at different events.
"As we're all very busy usually with our work, we didn't have time to get to meet or see our colleagues in the other labs very often. Therefore, the social events (such as consortium dinners, consortium awards lunch, holiday party, etc..) were special times at CEEE," she said.
Published June 26, 2020