CEEE Graduate Research Assistants Jangho Yang and Zhenyuan Mei Receive Engie Fellowships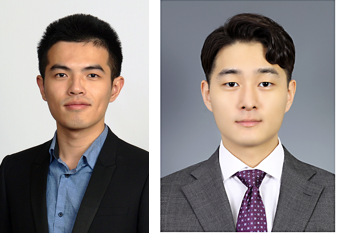 Mechanical Engineering Ph.D. students and CEEE graduate research assistants Jangho Yang and Zhenyuan Mei have been named the 2022-2023 recipients of the Engie North America ENGIE Graduate Fellowship in Mechanical Engineering.
Since 2002, Engie (Trigen-Cinergy Solutions as it was then named) has awarded fellowships at the University of Maryland through a fund created to support energy conversion education and research at the A. James Clark School of Engineering. In 2014, the fellowship was renamed the GDF-Suez Chuck Edwards Memorial Fellowship to honor the memory of Mr. Chuck Edwards, the late general manager at GDF Suez Energy North America and long-time fellowship benefactor.
The fellowship provides financial support to fund students' research and graduate assistant positions. A faculty committee selects students based on academic merit, recommendations and alignment of research goals in the area of energy conversion systems and related technology.
These fellowships support this year's students performing research in the areas of vapor compression, modelica software and phase change material heat exchangers. The fellowships of $21,000 each help to fund the students' research.
"Zhenyuan and Jangho's research is an excellent representation of the type of research ENGIE's philanthropy wishes to support," said Minta Martin Professor and CEEE Director Dr. Reinhard Radermacher. "ENGIE's support has enabled our students to expand their interests in energy engineering, think creatively about next-generation energy conversion systems, and secure jobs where they are making a fundamental difference in addressing climate change."
As part of the ongoing energy program partnership on campus, ENGIE plans to continue its support for UMD's academic mission for the foreseeable future.
"Our partnership with the University of Maryland was the first of its kind many years ago and has been a blueprint for our work with dynamic higher education institutions ever since. Our entire team has been honored to support UMD students' goals, education programs, and research endeavors that bring our world closer to a carbon neutral and sustainable future," said Serdar Tüfekçī, VP of Major Partnerships for ENGIE North America.
Yang's research focuses on PCM Heat Exchangers and thermal system storage solutions.
"As there is a strong push for CO2 emission reduction and renewable energy globally, the use of thermal energy storage has become more critical. They can be integrated into building HVAC&R systems for peak load shifting purposes and also be coupled with renewable energy sources," said Yang. "Phase change material heat exchangers are great candidates for thermal energy storage as they can utilize their latent heat from the phase change processes. We are currently working on developing high-performance PCM-HXs that could be used for AC or hot water systems."
Mei's project is titled "Design of High Performance Air-to-Refrigerant Heat Exchangers with Reduced Charge."
In addition to the graduate fellowships, ENGIE provides scholarships to undergraduate students in various engineering disciplines. This year's undergraduate scholarship recipients are Jakob Brinkman, Patrick James, Thi Pham, Landon Phan and Rachel Berley.
A list of previous recipients can be found here.
Published November 21, 2022