CEEE Co-Director Dr. Yunho Hwang Receives Student Competition Advisor Award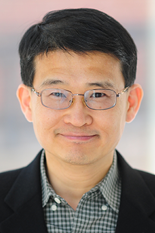 Center for Environmental Energy Engineering Co-Director Dr. Yunho Hwang received the Student Competition Advisor Award at the Spring 2022 Commencement Ceremony for his work with the UMD student team's submission reACT.
The award recognizes an outstanding faculty or staff member who serves as an exemplary leader to a student competition team.
Dr. Hwang received the award in recognition to his work advising the college's award-winning United States Department of Energy Solar Decathlon Team. The University of Maryland's entry into a competition sponsored by the U.S. Department of Energy that challenges collegiate teams from around the world to design and build energy-efficient, solar-powered houses took second place overall and was the top design from the United States.
UMD's entry into the 2017 Solar Decathlon, resilient Adaptive Climate Technology (reACT), sought to improve sustainability in four ways and includes a hydroponic garden, "living walls" within its courtyard, modular living elements, predictive automation, and design elements that simplify future upgrades to the house. Designed by an interdisciplinary team of students, the prototype house beat nine other collegiate teams from around the globe. UMD has placed in the top two each time it has competed in this international competition in the last 10 years (2007, 2011, 2017), with a first place win for its WaterShed house in 2011.
"Dr. Hwang is a great mentor and remarkably dedicated," said a student leader of the team. "I appreciate his implementation of his ideas and guidance throughout this project."
Published May 31, 2022