CEEE: Three Decades of Innovation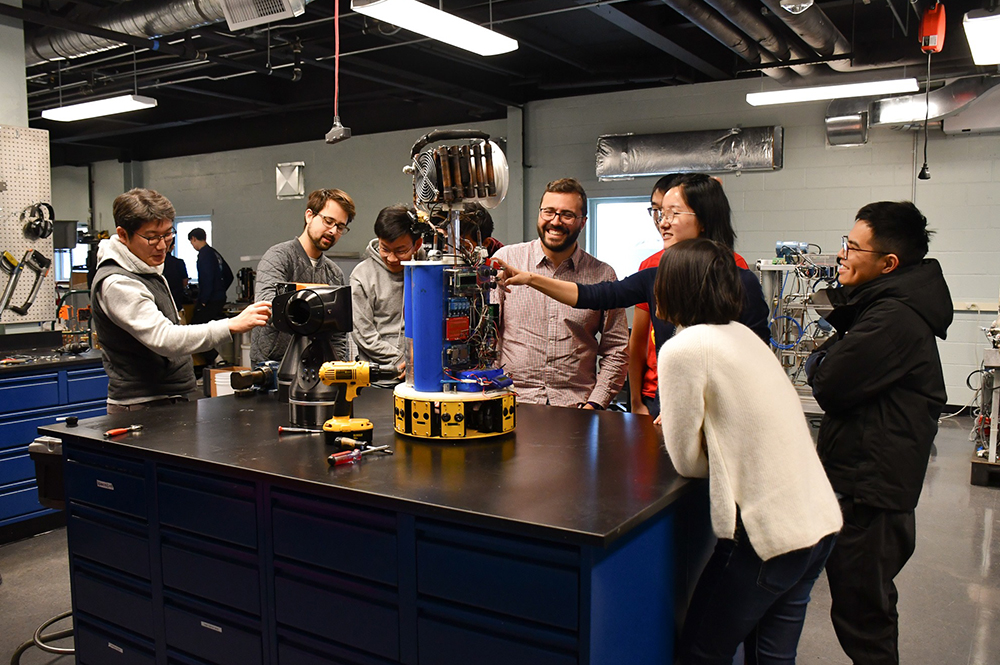 As the world grapples with the need to reduce carbon footprints while still meeting the ever-growing demand for refrigeration and heating, the University of Maryland's Center for Environmental Energy Engineering (CEEE) has been applying its research expertise to devise practical, cost-effective solutions.
On June 9, the center celebrated three decades of impactful work at a special anniversary event that was attended by approximately 80 guests, including Maryland Engineering's Dean Samuel Graham, Jr., UMD mechanical engineering chair Bala Balachandran, and representatives of NASA, the Department of Energy, Daikin Industries, and other leading companies and organizations. The event, originally slated for 2021, was delayed one year due to the COVID-19 pandemic.
In a recorded message, UMD President Darryll J. Pines—who served as dean of Maryland Engineering from 2009 to 2020---extended his congratulations. "During my time at the University of Maryland, I have watched CEEE make significant strides to contribute to decarbonization, including partnerships with some of the world's largest HVAC, energy, tech, and automotive companies," he said. "Government research laboratories have recognized this expertise and sponsored research to meet industry carbon neutrality goals."
Reinhard Radermacher, CEEE's director, said the event provided an opportunity to take stock of the progress that has been made so far, as well as to highlight current challenges and opportunities.
"It was wonderful seeing our students—the newest to CEEE—mingling with our faculty, staff and distinguished guests, some of whom were with us from the beginning," Radermacher said. "It was a great evening and I am delighted and grateful that so many of our alumni, staff, sponsors, research partners and supporters could attend. Here's to another 30 years!"
Michael Ohadi, Minta Martin Professor of Mechanical Engineering is a CEEE co-founder and leader of the Advanced Heat Exchangers and Process Intensification consortium. "Working at CEEE for the past 30 years has been a joyful and rewarding journey," he said. "Knowing that every research project we do and every course that we teach is focused at contributing to enhancement of energy efficiency and betterment of the environment has been particularly rewarding. Equally exciting, is seeing our graduates establish their own impactful educational and research contributions across the globe."
Although its contributions so far have been impactful, CEEE has an even more significant role to play in the years ahead, noted co-director Yunho Hwang.
"Over the last 30 years of research services, CEEE raised over $79 million in research funding, produced 247 Ph.D. and MS students, and became one of the leading research organizations on this topic worldwide. This is a big milestone for us as a well-recognized and respected research center," Hwang said.
"However, we have bigger challenges ahead," he said. For the next three decades, it is projected that the world air conditioning demands will increase by 2.7 times, which will create big energy and power supply challenges in addition to the environmental damages. CEEE has a vision is to excel in the R&D of lean and green energy conversion systems addressing these challenges to provide thermal safety to all."
Awards of recognition were presented at the event to NIST Fellow (retired) David Didion and former UMD aerospace engineering chair William Fourney for their role in establishing CEEE, and to Ohadi. Radermacher, meanwhile, was presented with a special commemorative gift by UMD mechanical engineering research professors Vikrant Aute and Yunho Hwang, and by mechanical engineering senior faculty specialist Jan Muehlbauer
In a message sent to CEEE, Xiaojie Lin (Ph.D. 2017),Distinguished Associate Research Fellow at the Institute of Thermal Science and Power Systems at Zhejiang University, highlighted the center's role in fostering technological advancements through its partnerships with industry.
"Congratulations! CEEE's work in this field has definitely been a world-class example showing industry-academic collaboration. During the last five years I have come across a lot of people from areas of innovative energy system technologies. I have come to realize how challenging it is to sustain such a unique mode of collaboration and innovation," he said.
"Thank you for all your help and I hope CEEE will move on as a dream institute for future energy engineers. "
To learn more about CEEE and its activities, visit ceee.umd.edu.
Published June 14, 2022