Visiting German Researcher Investigates ground-coupled desiccant air conditioning system at CEEE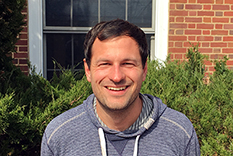 Visiting researcher Arne Speerforck has spent the last five months continuing investigation of a ground-coupled desiccant air conditioning system project at the Center for Enivronmental Energy Engineering at the University of Maryland. He began research on this topic at Hamburg University of Technology in Hamburg, Germany. He completed the experimental work in Germany, and has been focusing on running simulations using Dymola/Modelica. As a side project, Speerforck does simulations for separate sensible and latent cooling systems.
He earned his undergraduate degree in mechanical engineering and his master's degree in energy systems, both from the Hamburg University of Technology. During his time there, Speerforck held multiple industry internships, such as working for power companies Vattenfall and Eon. Speerforck also has an MBA, thanks to a scholarship compliments of Vattenfall. Currently in the last year of his Ph.D. program at TU Hamburg, he expects to graduate this July.
He has been to the United States several times before, once to attend the two-week summer course, International Joint Graduate Course in Sustainable Energy, at the University of Maryland in 2013. After learning the layout of the university and getting to know Dr. Reinhard Radermacher, he decided to pursue a six-month visiting researcher position at CEEE.
Speerforck will be leaving at the end of April, but feels it's been a growing experience. He's enjoyed interacting with his colleagues; he's benefitted from their expertise by learning about topics outside of his focus, such as vapor compression cycles. He also enjoys pursuing his own projects. "There's a lot of freedom at CEEE to pursue your passions" he explains, "I've been able to study the topics that I'm most interested in." Speerforck hopes to finish his research and complete a research paper before he returns to Germany.
In addition to his academic pursuits, a fellow graduate student, Zhenning Li, taught Speerforck how to play table tennis, also known as ping-pong. He was also able to visit natural parks and see the sights of Washington D.C., including the national monuments and museums. Over the winter break, Speerforck went to Florida to see the Everglades, and also took a few shorter trips to hike along the Shenandoah mountains in Virginia.
Published March 3, 2017