Meet the visiting students!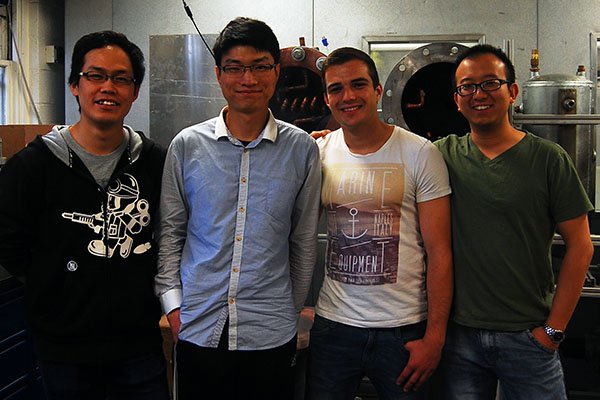 Visiting students Ji Wang, Zili Yang, Oliver Schmid, and Nan Zheng. Photo by Francesca Pascual.
Visiting students Oliver Schmid, Ji Wang, Nan Zheng, and Zili Yang have ventured to the United States to join the CEEE and pursue their work. All four are working in the Heat Pump Lab and Energy (Compressor) Lab under the guidance of Jan Muehlbauer, Dr. Vikrant Aute, and Dr. Yunho Hwang. The students are enjoying the enriching atmosphere created by their sponsors, and are enjoying their time in the United States.
For instance, Oliver Schmid, an undergraduate from Karlsrhue University and veteran of the German navy, is working with absorber and a desorber, and a roll bonding heat exchanger.
Ph.D. student Ji Wang is currently focused on fundamental research involving condenser flow in microchannels for heat exchanger applications. Wang feels that his time at the Center for Environmental Energy Engineering (CEEE) has been productive. "At CEEE I have the opportunity to pursue topics that I care about," he explained. "While I'm here, I would like to finish an analysis of data that I've collected, run simulations, and write some papers," he said.
At CEEE I have the opportunity to pursue topics that I care about.
Zili Yang, is a Ph.D. student from Shanghai Jiao Tong University, China. "He's here to work on a project researching a novel high-efficient absorption cooling system by building a new experimental setup in the CEEE Heat Pump Lab". He became interested in the HVAC field, because he says, "My hometown is polluted by coal burning, and I want to benefit the environment by developing energy saving equipment."
Nan Zheng, a Tianjin University, China Ph.D. student, conducts research work in thermal engineering. His project here relates to refrigerant mixtures and applications in heat pump systems with Dr. Yunho Hwang. Under his supervision, he Zheng is building a test system to run basic experiments in the hopes of creating a novel heat exchanger. Additionally, Zheng is conducting theoretical work and calculations for vapor injection that can be applied to heat pumps for better performance.
Read on to learn more about these remarkable students and their stay at the University of Maryland.
Published May 31, 2016