CEEE Team had Strong Showing at Purdue Conferences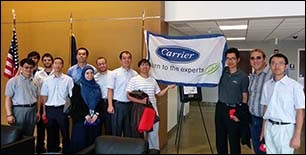 The 2014 Purdue Conferences, held at Purdue University in July, was attended by more than 600 attendees from industry, research labs, and universities, with more than 400 papers presented. CEEE students and faculty (and one alumni) presented a total of 18 presentations. The technical program included paper presentations in three main categories:
International Compressor Engineering Conference
International Refrigeration and Air Conditioning Conference
International High Performance Buildings Conference
Ph.D. student Long Huang presented three papers at the conference, the most from our group, and his paper Design Optimization of Variable Geometry Microchannel Heat Exchangers won note as a second place finisher for the Best Paper Award. He says, "This is a very technical conference, from which I received a lot of valuable comments from other colleagues working in relevant research fields."

ISOC Director, Dr. Vikrant Aute was one of six CEEE faculty members to attend the conference. "It is a good opportunity to meet other researchers and sponsors in person, and to better learn about their research and scientific challenges. It is also a friendly venue to ask critical research questions to presenters and get first hand feedback", he says of the conference experience.

A CEEE tradition is to schedule a visit to a corporate facility in the region of the conference. This year the group went to visit Carrier at the United Technologies Building and Industrial Services. "The HR people were so hospitable," says Ph.D. student Radia Eldeeb. "We had a tour of the factory as well as the lab. They have 19 psychometric chambers used for testing. The visit was informative and very impressive."
Published August 11, 2014