Researchers Introduce RoCo, a Mobile Personal Heating and Cooling Device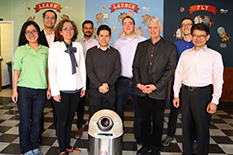 Have you ever had one of those days at the office where you just cannot get comfortable, no matter how you adjust the thermostat? Do you have a large room with high ceilings that is difficult to cool, leading to costly energy bills in the summer and winter? If you answered yes to either of these questions, a new University of Maryland innovation could help provide a solution. A group of researchers at UMD has invented a personalized heating and cooling device called RoCo—short for Roving Comforter—that can follow a person and heat or cool them as necessary. The device has the potential to cut energy costs significantly in residential as well as large buildings by using air conditioning more effectively tailored to individuals, rather than the entire space.
"RoCo provides cooling or heating controlled by a wearable device that measures personal comfort, and conditions individuals to their individual needs," said Reinhard Radermacher, Minta Martin Professor of Mechanical Engineering in the A. James Clark School Of Engineering, and director and co-founder of the Center for Environmental Energy Engineering (CEEE). "Unlike typical building heating and cooling systems, RoCo is mobile and can follow a user from place to place within a building to provide optimal, personalized thermal comfort."
The unit can also save personal preference data, such as air temperature and velocity for different metabolic rates. RoCo is equipped with face detection technology to direct air toward the correct user and to allow add-on features, such as security access check and mobile personal toolbox. The device is also designed with mechanical efficiency in mind, using technology that makes it rechargeable and limits the production of waste heat.
"The foundation of this personal cooling/heating device is the next generation miniature heat pump system with built-in phase change material (PCM) storage," said Radermacher. PCM is a substance that melts and solidifies at certain temperatures, and is capable of storing and releasing large amounts of energy. "Benefitting from a mini-compressor and next generation air-to-refrigerant heat exchangers, the system delivers cooling and heating using a minimal amount of power without releasing waste heat."
This invention was created through a collaboration that includes Radermacher; Vikrant C. Aute, associate research scientist in the Department of Mechanical Engineering and director of the Modeling & Optimization Consortium; Yunho Hwang, mechanical engineering research professor and associate director of CEEE; Jiazhen Ling, assistant research professor in the Department of Mechanical Engineering; faculty specialist Jan Muehlbauer; graduate research associates Rohit Dhumane, Yiyuan Qiao, Darren Key, and Yilin Du (M.S. '16) of the Department of Mechanical Engineering; Jelena Srebric, mechanical engineering professor and director of the Cluster for Sustainability in the Built Environment (CITY@UMD); Hoseong Lee, former assistant research professor who is now an assistant professor at Korea University; and Nicholas W. Mattise and Daniel Alejandro Dalgo Reyes, CITY@UMD graduate research assistants.
The research team believes their invention could have definite societal and global impact, specifically as it can reduce energy bills.
"Heating, ventilation, and air conditioning (HVAC) accounts for 13 percent of energy consumed in the U.S. and about 40 percent of the energy used in a typical U.S. residence, making it the largest energy expense for most homes," said Radermacher. "RoCo helps to improve productivity at lower expense and potentially more efficiently than traditional air-conditioning would do."
The team's research was supported by a $2.5 million grant from the Energy Department's Advanced Research Projects Agency-Energy (ARPA-E). Currently, the team is creating different prototypes, and a patent is pending. The team is optimistic about the next steps in RoCo's journey, and has launched a startup company to market and commercialize the technology.
"Mobile Comfort, Inc., was founded to conduct invention-to-marketplace research and to promote the technology at trade events such as the 2017 Consumer Electronics Show," said Radermacher.
UMD's Office of Technology Commercialization has nominated the team's innovation for the 2016 Invention of the Year award in the Physical Sciences category. The winners of the award will be announced at the Innovate Maryland: Celebrating Innovation and Partnerships event on April 12, which is part of the University of Maryland's "30 Days of EnTERPreneurship."
To learn more about Roco, visit http://www.ceee.umd.edu/roco.
Published March 24, 2017