Dr. Vikrant Aute Wins Provost's Excellence Award for Professional Track Faculty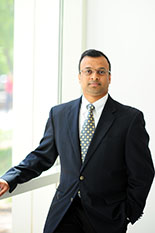 Dr. Vikrant Aute, associate research scientist with the Center for Environmental Energy Engineering and UMD alumni, has received a Provost's Excellence Award for Professional Track Faculty for outstanding contributions in research. The selection committee noted Dr. Aute's impressive research to improve heating, air-conditioning and refrigeration technology, and his worldwide reputation for thermal system software and development.
The Provost's Excellence Awards for Professional Track Faculty recognizes the contributions of professional track faculty on campus. Winners receive a letter of recognition from the Provost and a $1,000 award in recognition of consistently excellent contributions in one of the three core areas of academic activity: research, teaching, or service. Full list of winners.
Mary Ann Rankin, Senior Vice President and Provost, said 'The fact that your research has been consistently supported by both business and government agencies shows your dedication to the field. The impact of your research is significant and we are excited to see what new developments will come in the future."
Prof. Reinhard Radermacher, Minta Martin Professor of Engineering and Director of the Center for Environmental Energy Engineering, said, "Dr. Aute's work is a key reason why CEEE is as visible and highly regarded as it is, with nearly 40 firms and government agencies supporting his consortium research."
The Center for Environmental Energy Engineering, within the Department of Mechanical Engineering at the University of Maryland, is a leader in research and education in environmentally responsible, economically feasible integrated energy conversion systems for buildings and transportation. Research focuses particularly on air-conditioning, refrigeration and heat pumping and integrated cooling heating and power systems.
Published May 1, 2018