CEEE Selected as Quarterfinalists in DOE Solar Desalination Competition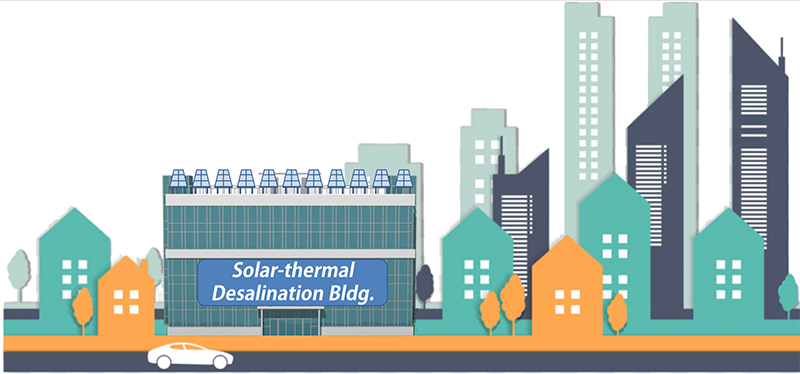 Center for Environmental Energy Engineering researchers have been selected as quarterfinalists in the Department of Energy's 'The American-Made Challenges: Solar Desalination Prize'. They have been awarded $50,000 in this initial stage of the competition, with the ability to earn up to $1 million as the competition progresses. Out of 162 applicants, 19 quarterfinalists from 12 states were selected to advance to the second phase of the competition, CEEE being one of them.
"I am very happy that our team has been selected as a winner of the first stage of the competition for developing solar-thermal desalination," said Ph.D. student, Gyeong Sung Kim.
Researchers Dr. Yunho Hwang, Dr. Tao Cao and graduate research assistant Gyeong Sung Kim proposed the project "Urban Solar-Desal Building," a vertical, building-integrated desalination system for urban areas. Solar-thermal collectors will be the energy source to heat multistage vacuum membranes in the system. This concept has the potential to decentralize desalination at the point of use.
Population growth is happening fastest in urban areas of less developed regions. However, water and sanitation access rates are not keeping up with the population increase in urban areas because conventional water sources such as surface water and groundwater may be not able to deal with the gap between supply and demand for drinking water, Kim explained. Fortunately, many cities are located at the seashore or near the sea and water shortage cities overlap with high-density solar insolation. This is the team's motivation for designing the Urban Desal-Building.
The American-Made Challenges: Solar Desalination Prize is a four-stage, $9 million prize competition, providing an additional $1 million in support, was designed to accelerate the development of low-cost desalination systems that use solar-thermal power to produce clean water from salt water. Competitors will receive cash prizes as they advance through each stage of the competition, culminating in a $1 million grand prize for the successful testing and demonstration of a promising solar-thermal desalination system prototype.
"For the next stages, we will seek and invite a proper end user and technical developers for demonstrating the prototype," Kim said.
Published October 27, 2020