CEEE Recognizes Senior Faculty Specialist Jan Muehlbauer for 15 Years of Exceptional Service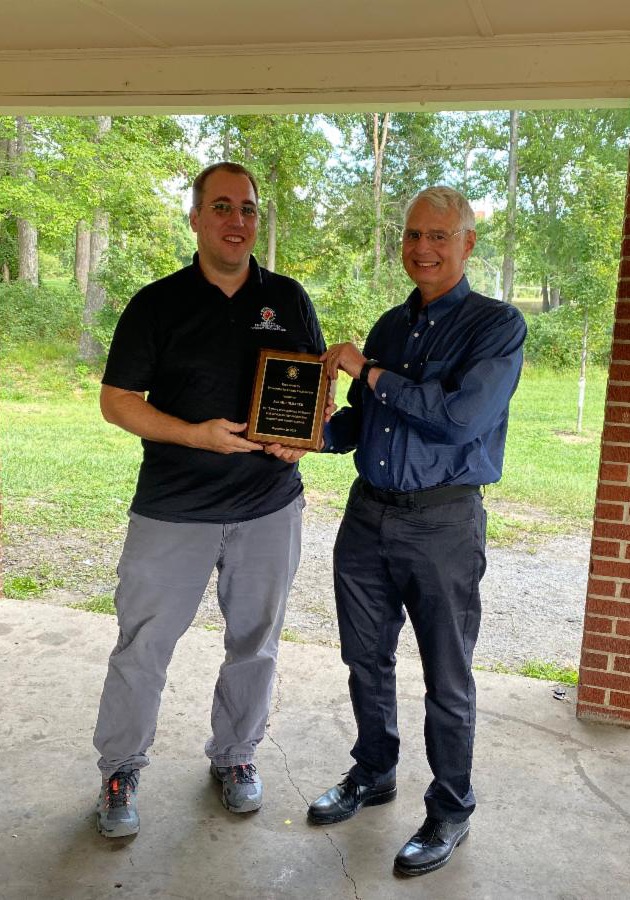 The Center for Environmental Energy Engineering recognized Senior Faculty Specialist Jan Muehlbauer for 15 Years of Exceptional Service and dedication to student success.
Muehlbauer was presented a plaque in appreciation for his consistent hard work by CEEE Director Reinhard Radermacher while at CEEE's celebratory picnic for winning the Peter Ritter von Rittinger International Heat Pump Award.
"We are grateful for Jan's exceptional and consistent work over the last 15 years of service at CEEE," Radermacher said. "He always goes beyond the expectation for research efforts and helping students succeed."
Muehlbauer started at CEEE while he was an undergraduate student at The University of Applied Sciences in Manheim, Germany. He came to the University of Maryland initially in a research exchange program and began working with Dr. Radermacher. After he graduated, he came to the University of Maryland and completed a Master's in Thermo Fluid Sciences, while working as a graduate reserach assistant in CEEE. Upon completion of his master's he continued assisting with research efforts with CEEE, where he has been for the last 15 years.
Muehlbauer now manages the Daikin Energy Innovation Laboratory, which officially opened in 2019, and manages everything from student operations, troubleshooting research problems, coordinating lab updates and installations, and anything else that is needed.
Muehlbauer especially is a key element to student success with projects, working tirelessly to ensure their projects are meeting deadlines and desired research outcomes.
"I worked with Jan during his final year as a CEEE student and his first year as CEEE laboratory staff. Working with Jan was an incredible experience and my work, along with that of many other students, is indebted to his commitment to excellence, perseverance in problem solving, and genuine compassion for those he works with," CEEE alumna Cara Martin said. "I would not be where I am today without Jan's time, attention to detail, technical knowledge, and brute strength. The skills and capabilities I learned while we worked together stay with me today, as well as his attitude for team building and collaboration. I wish to thank him for all he's done for me and congratulate him for 15 years of success with CEEE!"
Published September 23, 2021