CEEE adds five new students to EEHP and MOC consortium groups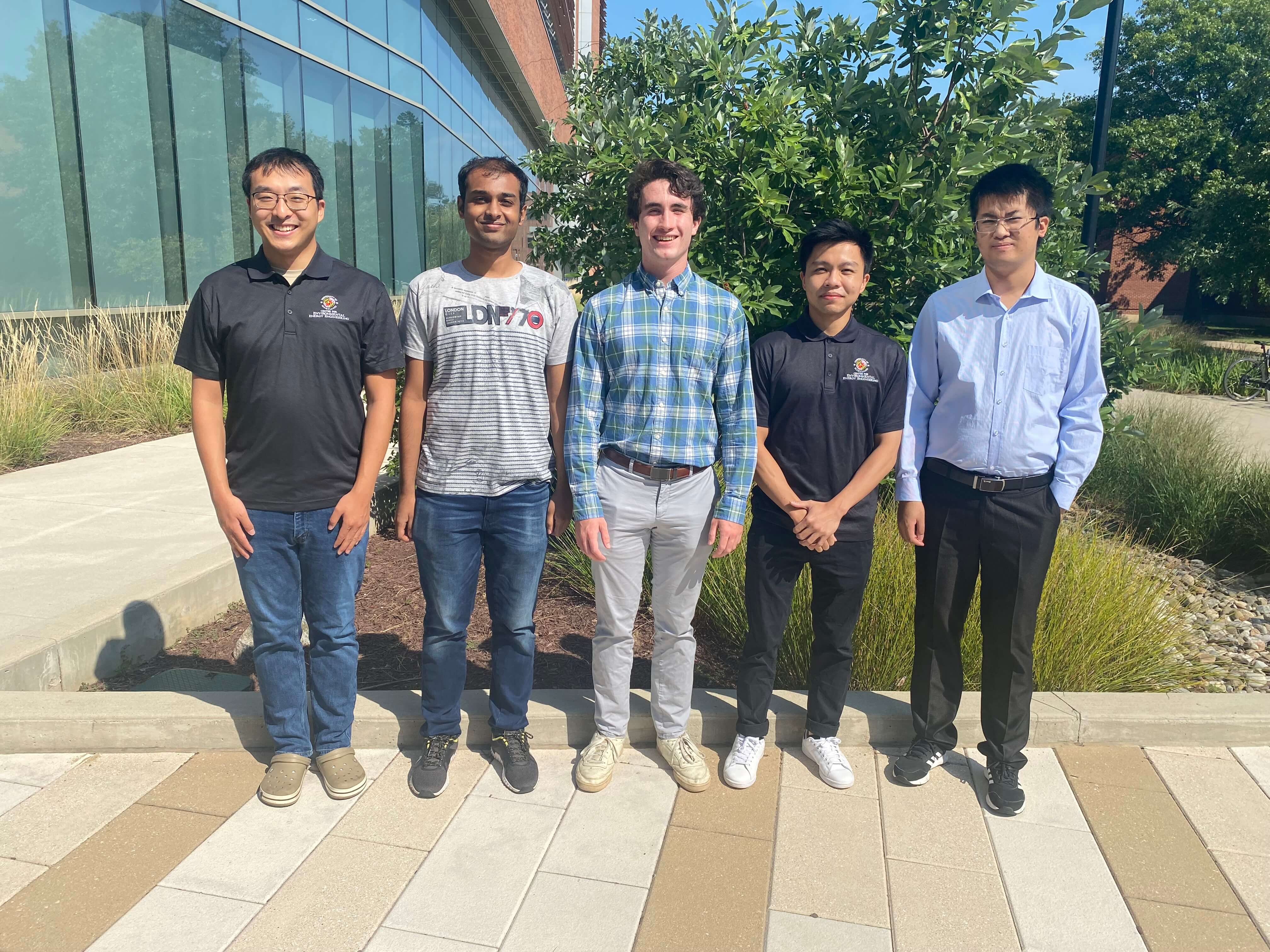 Energy Efficiency and Heat Pumping Consortium:
James Shen
James Shen is from Ellicott City, Maryland and will be joining the EEHP Consortium Group. Before joining CEEE as a graduate research assistant, he was an undergraduate student assistant for CEEE while obtaining a Bachelor's of Materials Science and Engineering at University of Maryland. Shen is now pursuing a Ph.D. in mechanical engineering.
"I chose to come to CEEE since I worked in the lab as an undergrad and I was really interested in the elastocaloric cooling project."
Shen is now pursuing a Ph.D. in mechanical engineering and his research interests include using machine learning and materials science background to investigate novel elastocaloric materials and scale up their feasibility. His research goals are to investigate and develop a commercial scale prototype of the solid-state cooling system and miniaturize the system further.
In the future James ideally sees himself working in climate consulting with a focus on bridging the communication gap between Research & Development and the general public.
When he isn't in the lab or studying, you can find Shen enjoying hiking, camping, scuba diving and traveling.
Po-Ching Hsu
Po-Ching Hsu is from Taiwan and prior to coming to University of Maryland to pursue a Ph.D. in Mechanical Engineering he received a Bachelor's Degree in Energy and Refrigerating Air-Conditioning Engineering from National Taipei University of Technology and then a Master's Degree in Mechanical Engineering from National Taiwan University. Po-Ching joins CEEE in the EEHP Consortium Group.
"I choose CEEE because it has great achievements in state-of-art energy technology, research in tackling real-world problems, and extraordinary faculty," Hsu said. "My interest is to explore new ideas in energy conversion technology to help using energy more efficiently."
His previous research includes working on Bi-cell Proton Exchange Membrane Fuel Cell Stack with a Magnetically Driven Piezoelectric Actuator while pursuing his master's degree. During his undergraduate research, he worked on Impinging Micro Channels of Dielectric Fluid for Chip Cooling.
In his spare time, he likes working out at the gym, running and reading books.
Modeling and Optimization Consortium:
Brian O'Malley
Brian O'Malley is from Silver Spring, Maryland and he is a part of the MOC Consortium Group. Prior to attending University of Maryland to pursue a Ph.D. in Mechanical Engineering, he received a Bachelor's in Mechanical Engineering from The Catholic University of America in May 2021.
"Thermodynamics was probably my favorite course in undergrad and subsequent courses like fluid mechanics and heat transfer only solidified my interest in the topic. Additionally, working on sustainable engineering practices is one of my primary career goals," O'Malley said. "When the opportunity arose to join CEEE and work with world class researchers on a topic I am passionate about I didn't have to spend much time making a decision."
One specific research interest of his is how to might mitigate the energy cost of human comfort.
When he isn't in the lab or studying, he likes to spend his free time reading, in the gym or with his friends and family.
"My parents have about a dozen sheep and a donkey named Francis, some of my free time also goes to taking care of them."
Rui Lui
Rui Lui is a Ph.D. student joining the MOC Consortium Group. Lui is from a small city called Jinchang, Gansu Province, China. Prior to coming to University of Maryland, he received a bachelor's degree from from Shanghai Jiao Tong University in Mechanical Engineering.
"I chose to come to CEEE because it is a very good, prestigious research institute that deals with HVAC and energy systems," Lui said. "That's the research field that I started working on when I was an undergraduate student and interests me."
Lui's research goals include wanting to control, model and optimize energy systems to make them more efficient, reliable and with higher robustness for the sake of energy saving and dealing with environmental issues.
In his free time, he likes to watch movies, read, hang out in a park or in nature. He also likes to travel, which makes him feel refreshed and relaxed.
Suraj Krishnamurti
Suraj Krishnamurti is from New Delhi, India and completed both a Bachelor's and Master's degree from Indian Institute of Technology (Banaras Hindu University), Varanasi. He is joining the MOC Consortium Group and is now pursuing a Ph.D. in Mechanical Engineering
"I'm enamored by the modelling capabilities at CEEE and hope to learn from it and improve it," he said. "I hope to learn as much as I possibly can."
In his free time, he enjoys jogging, swimming and listening to music.
Published September 24, 2021