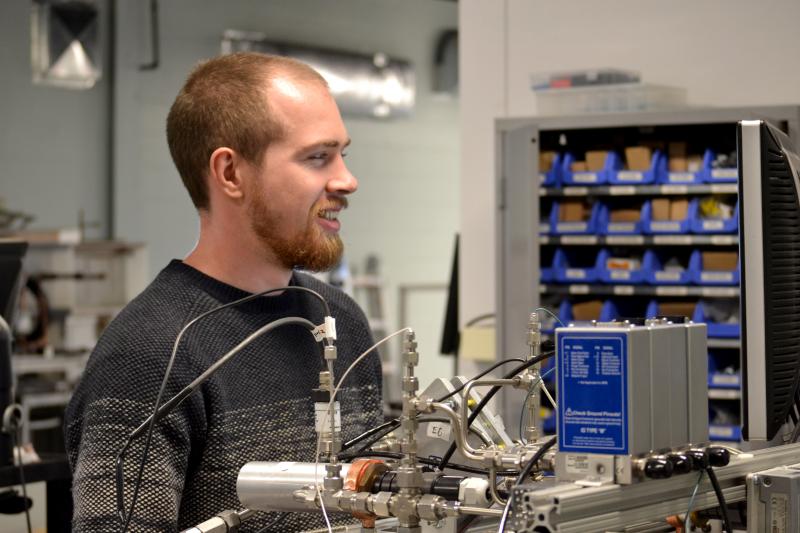 My favorite thing is setting up the experiment and testing it. I really like working with my hands, which is another reason I was drawn to [my project].
A Maryland native, Joe Baker says it's not surprise he decided to study at the University of Maryland. "My whole family pretty much goes here," he said. "It just makes the most sense."
Baker completed his undergraduate work at UMD, having began work with CEEE at the beginning of his junior year as a student assistant. He then joined the PhD program last fall and made his CEEE focus electrochemical compression. "At the beginning I was pretty nervous about it, since I didn't know anything about chemistry," he admitted. Baker says he ultimately agree because he viewed it as an "opportunity to learn something new."
"I'm having fun learning the chemistry side and doing new things," he said. Baker cited his coworkers as part of the reason he enjoys the environment. "They give me the freedom to work out the things I need to work out," he said.
CEEE Work
"Imagine you have an air conditioner in your window that doesn't make any noise and the refrigerant inside isn't damage to the environment," Baker said, the soft version of an elevator pitch. He's points out that this quick rundown of the project is definitely reductive, adding more can be done with it theoretically. He directly referenceds C02 capture.
"We've talked about using it for carbon sequestration- that would really be my ultimate goal," Baker said.
Outside of the Lab and Beyond
Outside of the classroom, Baker enjoys going to concerts and mentioned an appreciation for the area's many musical venues. He also bicycles with his friend group. 
"There's a lot of really great mountain biking trails in the area," he said, listing Fountainhead Bike Trail in Northern Virginia as his favorite. In true engineering fashion, Baker started building a bike from the ground up in February.
"I bought all the parts from a bike swap," he said, "and now I'm in the process of putting it all together."
With an anticipated graduation date of 2022, Baker is refraining from a post-school commitment. "I've got a lot of time to figure out so I'd like to keep my options open," he said. He expressed interest in faculty specialist or research fellow positions, citing his fondness of lab settings.
"I want to keep doing research," he said. "My favorite thing is setting up the experiment and testing it. I really like working with my hands, which is another reason I was drawn to [my project]."
Baker says he wants to remain flexible, as it has served him well in the past. "An opportunity comes up and you just have to go for it."

A Maryland native, Joe Baker says it's not surprise he decided to study at the University of Maryland. "My whole family pretty much goes here," he said. "It just makes the most sense."
Top