Daniel Fernandes Bacellar, Ph.D. 2016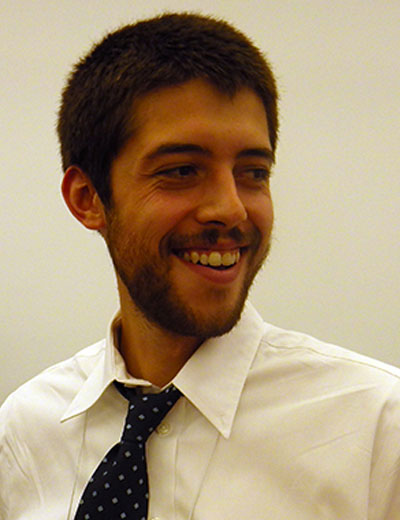 You have accessible, residential areas that are right next to, what I think, is a very pretty city
Story by Francesca Pascual Daniel
Fernandes Bacellar is currently working on his Ph.D., which focuses on the optimization of miniaturized air-to-refrigerant heat exchangers. The goal of his research is to help develop the next generation of heat exchangers, and establish new guidelines in heat exchangers design.
Bacellar graduated from the University of Sao Paulo in 2010 with a bachelor's degree in mechanical engineering, then worked for an energy consultancy company for about two years. At the consultancy company, he was able to dabble in different aspects of research, including software development, simulation, and modeling.
Work experience led to interest in CEEE
This introduction to research methods spurred his interest in earning his Ph.D. Bacellar stumbled across the CEEE when he was looking for doctorate programs, and looked like it would be able to join his interests in research and development seamlessly.
Bacellar reached out to Dr. Reinhard Radermacher, who responded promptly and wanted to discuss Bacellar's academic and work goals. Radermacher later offered him a research position which would allow Bacellar to pursue his own line of interests.
After Bacellar graduates from the University of Maryland, he would, ideally, like to find a job in research and development. He also considers the prospect of teaching.
Optimizing new fatherhood
Bacellar Family: Daniel, Heather and baby Julia.Bacellar enjoys living near D.C. due to the size and personality of the city. Originally from Sao Paulo, Brazil (a city as big as New York City), Bacellar likes how the big-city feel is compressed into a small, geographic location. "You have accessible, residential areas that are right next to, what I think, is a very pretty city," says Bacellar.
The location is perfect to start the next chapter of his life: parenthood. Julia was born to Bacellar and his wife, Heather Sutton, in February. The couple is very excited about this life-changing transition, even though it is, at times, challenging. "When family comes to the area, they are only around for a week, so we are mostly figuring things out on our own," he says. However, Bacellar assures that they are enjoying their new life very much.
With his work and daughter taking precedence, Bacellar has pushed most of his old hobbies to the wayside. When he has some down time, he likes to play guitar or work on home improvement projects. He and his wife also like to stay active, visiting parks and going on hikes as often as possible.
Top