Zhenning Li Wins Best Student Consortium Presentation Award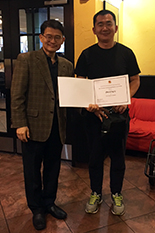 Center for Environmental Energy Engineering (CEEE) Ph.D student, Zhenning Li, won the Best Student Consortium Presentation Award for his presentation, 'CoilDesigner Updates' out of 16 student presenters at the event. Sponsors provide feedback to the students and score their presentation on several categories regarding the quality of the presenation and research, as well as comment on future research direction. More than 80 people took part in the consortium meetings.
Mr. Li earned his bachelor's degree in Mechanical Engineering from Shanghai Jiao Tong University in Shanghai, China. He has been a member of the center's modeling and optimization group since September 2014. His adviser is Dr. Reinhard Radermacher.
"And I was saying that they worked me too hard," said Mr. Li when he was presented with the award, "but it worked out very well".
Dr. Yunho Hwang, who is assocaite director of the Center for Environmental Energy Engineering, presented the award at the award luncheon, saying, "The sponsors' comments lincluded that this was important work, that he presented great updates, and that his project had great circuitry optimization work'. He presented Mr. Li with an engraved made-in-Maryland tankard to commemorate the event.
The consortium meetings are held semiannually and feature research presentations to sponsors by our students and faculty, feedback sessions, lab tours and networking events. The next meetings are scheduled for September 10-12, 2018.
Published March 14, 2018