Suxin Qian Awarded Ann G. Wylie Dissertation Fellowship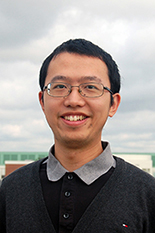 Center for Environmental Energy Engineering Ph.D. student Suxin Qian is the recipient of the 2015 Ann G. Wylie Dissertation Fellowship. The Fellowship carries a $10,000 stipend, $800 toward health insurance, a candidacy tuition award, and a credit for mandatory fees for one semester.

The award supports Qian's research in "Development of Thermoelastic Cooling and Heat Pump Systems", which utilizes shape memory alloys to provide cooling as well as heat-pumping. His ground-breaking research develops new approaches to implementing thermoelastic cooling technology.
If the dissertation proves that the thermoelastic cooling is technically achievable, this technology will become a competitive alternative option to the vapor compression cooling systems in use today, and will significantly reduce the impact of global warming refrigerants.
Qian's faculty advisor is center director and Minta Martin Professor of Engineering, Reinhard Radermacher.
Establsihed in 2005, the Graduate School's Ann G. Wylie Dissertation Fellowship is a companion program to the University of Maryland Flagship Fellowship and the Graduate Student Summer Research Fellowship programs.
Published April 10, 2015