Dr. Hwang and Dr. Aute Named New CEEE Co-Directors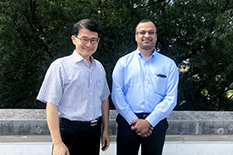 Dr. Yunho Hwang and Dr. Vikrant Aute are named the new co-directors for the Center for Environmental Energy Engineering, where they will work with Dr. Reinhard Radermacher in leading CEEE further in developing state-of-the-art research in energy engineering, as well as foster a top-notch learning environment for graduate students.
"Dr. Hwang and Dr. Aute have demonstrated great leadership, vast knowledge and exceptional dedication to the Center of Environmental Energy Engineering over the years," said Radermacher, director of CEEE. "They have been instrumental in growing the center's breadth of research and in their roles of consortium director have greatly expanded our sponsor research and grant funding."
Both Hwang and Aute received their Ph.D.'s in Mechanical Engineering from the University of Maryland and have dedicated much of their careers to successfully enhancing research at CEEE and innovating new technology for a more environmentally sustainable future.
Dr. Hwang has worked at CEEE for over 25 years and is a worldly-renowned expert in energy efficiency and new innovative energy systems research in the field of refrigeration and air-conditioning (RAC). He has developed many energy efficient technologies and continues to do so with his current research, some of which involves: elastocaloric cooling, electrochemical compression, and next generation heat exchangers.
"I am very excited to join CEEE's top leadership and feel a heavy responsibility at the same time," said Hwang. "As a co-director, I would like to continue our center's legacy by providing sustainable thermal safety for all through world top class level research, close interaction with our sponsors and creative education for next generation engineers."
Dr. Aute has nearly 20 years of experience in the development of modeling and optimization algorithms for thermal systems. His current research focuses on approximation assisted multi-objective multidisciplinary optimization and its application in designing thermal systems and the continued development of heat exchanger and vapor compression system simulation tools.
"Together with our faculty, staff and students, I strive to continue providing forward thinking and timely research and value to our sponsors," said Aute. "I envision working towards CEEE 3.0, ensuring that we extend our leadership position in these changing times and expand our status as one of the leading Centers for HVAC&R research in the world."
Published July 17, 2019