CEEE Researchers Win ASHRAE Best Paper Award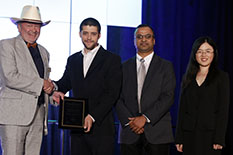 Four researchers associated with the University of Maryland's Center for Environmental Energy Engineering (CEEE) won the best paper award for the American Society of Heating, Refrigeration, and Air-conditioning Engineers (ASHRAE) journal, Science and Technology for the Built Environment (STBE). Dr. Daniel Bacellar (PhD, 2016), Research Prof. Vikrant Aute (PhD 2010), Dr. Zhiwei Huang (PhD 2017), and Prof. Reinhard Radermacher, won for their paper, "Design Optimization and Validation of High Performance Heat Exchangers using Approximation Assisted Optimization and Additive Manufacturing".
Science and Technology for the Built Environment, ASHRAE's archival research publication offers comprehensive reporting of original research in science and technology related to the stationary and mobile built environment. STBE published 107 manuscripts in 2017, with the UMD paper being voted the best according to a panel of judges from the STBE editorial board, the ASHRAE publications office, and the journal's publisher - Taylor&Francis. ASHRAE president, Dr. Bjarne Olsen, presented the paper to the team during the society's annual conference held in Houston in June 2018.
Dr. Bacellar is an engineering manager with the Optimized Thermal Systems in Beltsville, MD, and Dr. Huang is a senior engineer with Johnson Controls in Oklahoma City.
The Center for Environmental Energy Engineering, a center within the Department of Mechanical Engineering at the University of Maryland, is a leader in research and education in environmentally responsible, economically feasible integrated energy conversion systems for buildings and transportation. Research focuses in particular on air-conditioning, refrigeration and heat pumping and integrated cooling heating and power systems.
Related story, "Advancing Heat Exchangers: A Look at STBE's Best Paper of the Year", ASHRAE News, August 2018.
Published July 6, 2018